STORIES OF THE SUSQUEHANNA VALLEY:
One Region, Many Stories, Multimedia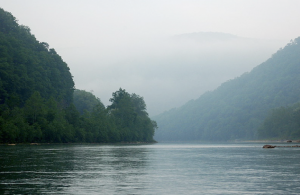 Stories of the Susquehanna Valley began in 2010 as a unique research project focused on a watershed, utilizing multimedia scholarship, designed to articulate, highlight, and learn from stories that form our region, our communities, our ecosystems, and ourselves. This long-term collaborative project in environmental humanities, community studies, and natural history focuses on the question of what constitutes an eco-region as a confluence of cultures and ecologies, how to address the question of "native" and "settler" cultures in a region and ambiguities between them, and also the ethics of regional studies in academia. It already has helped achieve designation of the Susquehanna River as a national historic corridor and has helped to develop scholarly books and public TV programming on the river. The project involves partnerships with the Susquehanna Heartland Coalition for Environmental Studies and Susquehanna Colloquium, Haudenosaunee (Iroquois) Environmental Task Force, Chesapeake Conservancy, Envision the Susquehanna, and faculty from Bucknell, Bloomsburg, University of Buffalo, SUNY Binghamton, among others. It emerges from a decade of planning, and longer-developed expertise, by scholars at educational institutions in the Valley, in collaboration with leaders of Native nations, community members, and undergraduate researchers.
Documentary Projects
Student documentary projects, in conjunction with WVIA and related to Bucknell curriculum, include the pilot Stories of the Susquehanna: Utopian Dreams documentary, which premiered on WVIA in spring 2016. Other student-produced documentaries are planned and in production, all designed to help interpret the valley's central role in American history, while in effect letting the region speak by including community members today in shaping and developing the short films. A video archive is also being developed as part of interpretive work and digital mapping of the Susquehanna River national historic corridor.
http://on-demand.wvia.org/video/2365723970/
Book Series
The SSV Book series includes two volumes published in 2013, Native Americans of the Susquehanna Valley by David Minderhout of Bloomsburg University, and Coal Dust on Your Feet by Janet McGaffey of Bucknell. Future volumes planned include Katherine Faull's translation and study of the Moravian diaries of Shamokin, a natural history volume by a team of scientists led by Duane Griffin of Bucknell and Mark Blumler of SUNY Binghamton, The Coopers, Coleridge, and Priestley: Re-Defining Nature on the Susquehanna Frontier by Alfred K. Siewers, and a volume on Susquehanna rivertowns co-edited by Ben Marsh, Janet Jones, and Brandn Green. Most of these volumes will include companion GIS maps, geo-stories, and videography.
Digital Atlas of the Susquehanna Valley
This collaborative digital project seeks to interpret and articulate aspects of the region from cultural history to natural history, linking various scholarly projects. It includes GIS, visualization of stories through text and imagery, and development of accompanying videography from oral history interviews to documentaries. To provide an historical base map, Bucknell faculty and students, coordinated by Prof. Katherine Faull, have been using ArcGIS to incorporate information about historical places in the Valley.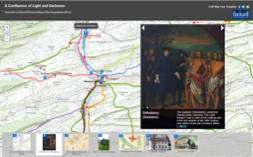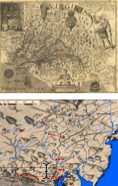 Using primary and secondary sources, including historical maps such as the 1612 John Smith map of the Chesapeake Bay (top left), many students have been involved in the production of an historic base map. Emily Bitely '11 used GIS to georeference early maps, including the Smith map, to present-day town locations on the river.  Working closely with LIT staff, Prof. Katherine Faull and Steffany Meredyk '14 (drawing on work also by other faculty and students) constructed pilot online interactive web map applications through ArcGISOnline. The pilot maps bring stories of the Susquehanna to the user through a clickable map and embedded multimedia.
Natural History Project
Funded in part by William and Madeline Morrow, and coordinated by geographers Duane Griffin of Bucknell and Mark Blumler of SUNY Binghamton, the SSV Natural History Project involves a group of distinguished scientists working on digital- mapping terrestrial and aquatic life, geology, and hydrology in the Susquehanna watershed, while also producing a book that will be the first-ever complete illustrated natural history of the valley, with the goal to be "as beautiful as it is informative."
Upper Susquehanna

Projects on Joseph Priestley, the Pantisocracy, French Azilum, and the Headwaters, coordinated by Prof. Alfred K. Siewers focus on mapping and producing documentaries and scholarly research to connect the legacy of foundational 19th-century cultural projects on the North Branch with conservation and land use today. Students Sam Lauer '13 and Abi Mills '13 have researched and worked on mapping and video of the legacy of James Fenimore and Susan Fenimore Cooper at the Headwaters. Students Courtney Nelson '15 and Drew Picketts '14 have worked on mapping and video of the legacies of the utopian Pantisocracy project (associated with Joseph Priestley and Samuel Coleridge) and French Azilum. A new group of students is extending the work, which will culminate in a scholarly book with student and community collaboration, as well as geo-stories.
Rivertowns and West Branch Studies
Profs. Ben Marsh, Carl Milofsky, and Brandn Green, with other community and scholarly collaborators including faculty from other institutions, are developing projects on Susquehanna river towns for mapping and geo-stories, and eventually a book collection. Dr. Green and students have begun work on more detailed mapping and potential geo-stories on the West Branch and its tributaries.
Curricular Development
A co-taught course "The Susquehanna Country" involved related student research and mapping projects in 2012, and will be offered again in the 2014-2015 academic year at Bucknell, by Profs. Katherine Faull and Alfred K. Siewers, who have also developed other courses from SSV. In addition, aspects of the Bucknell on the Susquehanna program courses have involved students with SSV as undergraduate researchers with the river as a classroom.
Partnerships
SSV involves faculty partners from institutions including Bucknell University, Bloomsburg University, SUNY Binghamton, and Wilkes University, as well as partner organizations such as the Haudenosaunee Environmental Task Force, the Susquehanna Heartland Coalition for Environmental Studies, the Chesapeake Conservancy, and Envision the Susquehanna . Its faculty have received support for related projects from sources ranging from the National Endowment for the Humanities to the Luce and Mellon Foundations. It involves digital scholars and staff at Bucknell's Library and Information Technology Department as well as undergraduate and graduate students from Bucknell and other institutions. Chief Sid Jamieson has been a key partner in developing relationships between the project and leaders of the Haudenosaunee (Iroquois) Confederacy.