Principal Investigators: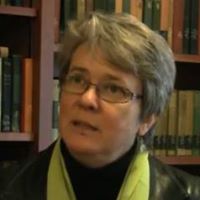 Katherine Faull is Professor of German and Humanities at Bucknell University where she regularly teaches classes on Pennsylvania's "backcountry".  Katie's work on the Stories of the Susquehanna project centers around the interactions between Moravian settlers and native people in the Susquehanna Valley region. She is the recipient of three major awards from the NEH to support the translation and publication of manuscript materials from the Moravian Archives in Bethlehem, PA and has published widely on topics in Moravian Studies.  She is a Life Member of Clare Hall, University of Cambridge. She also serves  on the Board of Directors of the Moravian Archives, Bethlehem, Pa and is a past board member of the Northumberland County Historical Society. Along with Alf Siewers, she co-taught the Susquehanna Country course, which engaged Bucknell undergraduates in an interdisciplinary study of the region's history and culture. Her presidential fellow, Steffany Meredyk, did extensive work on the Confluence of Light and Darkness storymap, along with other digital map work. Curriculum Vitae
Alfred Kentigern Siewers is Associate Professor of English and Affiliated Faculty in Environmental Studies at Bucknell University, where he regularly teaches on issues of region and landscape related to both ancient and modern literature. His work and teaching on the Susquehanna watershed focus on ecocritical and ecosemiotic approaches to the question of what forms a region. He and his students explore the writings and lives of early figures representing seminal and contradicting influences on American ideas of nature in relation to the Susquehanna Valley:  James Fenimore Cooper, Susan Fenimore Cooper, Joseph Priestley, and Samuel Taylor Coleridge. Alf is author of a study of environmental landscape traditions, Strange Beauty: Ecocritical Approaches to Early Medieval Landscape, editor of the collection Re-Imagining Nature: Environmental Humanities and Ecosemiotics, and of articles and papers on environmental humanities including work on the Coopers. He has taught a Visions of the Susquehanna course, and with Katie Faull the Susquehanna Country. His students currently are working on mapping and video documentary of the legacies of the Coopers, Priestley, and utopian projects on the river. Founding organizer of the Environmental Humanities and Nature and Human Communities Initiatives at Bucknell, his work in environmental journalism includes an award-winning series on regional landscape restoration and articles in publications such as Whole Earth. Curriculum Vitae
Co-PI:
Brandn Green, Ph.D. (Director, Place Studies Initiative, Bucknell University Environmental Center): The Bucknell Environmental Center's Place Studies Initiative has been instrumental in organizing significant research into the historical, cultural, and physical environment of the region through programs like the Susquehanna Writer's Institute.
Liaisons to Native Nations:

Chief Sid Jamieson, Haudenosaunee (Iroquois)
Dr. Susan M. Taffe Reed, Lenape (Delaware)
Associated Faculty:
Duane Griffin (Associate Professor, Bucknell, Geography)
Ben Marsh (Professor, Bucknell, Geography and Environmental Studies)
Carmen Gillespie (Professor, Bucknell, English)
Holly Frederick (Assistant Professor, Wilkes University Environmental Engineering and Earth Sciences)
David Minderhout (Professor Emeritus, Bloomsburg University, Anthropology)
Mark Blumler (Associate Professor, SUNY Binghamton, Geography)
Susan M. Taffe Reed (Postdoctoral Fellow, Bowdoin College, Music
Donald Grinde (Professor, American/Native American Studies, University of Buffalo)
 Digital/GIS and Video Specialists:
Andy Famiglietti (Bucknell Digital Scholarship Coordinator)
Janine Glather (Bucknell Geographic Information Systems Specialist)
Diane Jakacki (Bucknell Digital Scholarship Coordinator)
Brianna Derr (Bucknell Videographer)
Luyang Ren (Bucknell GIS/Web Application Specialist)
Student Research Assistants (partial list): 
Steffany Meredyk ( Bucknell '14)
Courtney Nelson (Bucknell '15)
Laura Lujan (Bucknell '17)
Peter Unrein (Bucknell '17)
Annmarie Mullen (Bucknell '17)
Eve Marie Blasinsky (Bucknell MA '14)
Michelle Gallagher (Bucknell MA '15)
Sam Lauer (Bucknell '13)
Emily Bitely (Bucknell '11)
Joey McMullen (Bucknell '10)
Molly Clay (Bucknell MA '09)
Institutional and Organizational Partners and Funders
Stories of the Susquehanna Valley is a partner of the Susquehanna Heartland Coalition for Environmental Studies, Envision the Susquehanna, and the North Branch Trail. Its faculty and projects have received support through grants from the National Endowment for the Humanities, the R. K. Mellon and Luce Foundations, the Degenstein Foundation, and the Jon Ben Snow Trust, among other sources.